Slide
Aligned to the NIST-NICE Framework
Individuals Boost Your Cybersecurity Career
Assess your soft and hard skills, find opportunities in the cybersecurity workforce, and develop your cyber talent.
Slide
Aligned to the NIST-NICE Framework
Employers Match to Security Talent
Identify your skills gap, create skills postings, and match to candidates.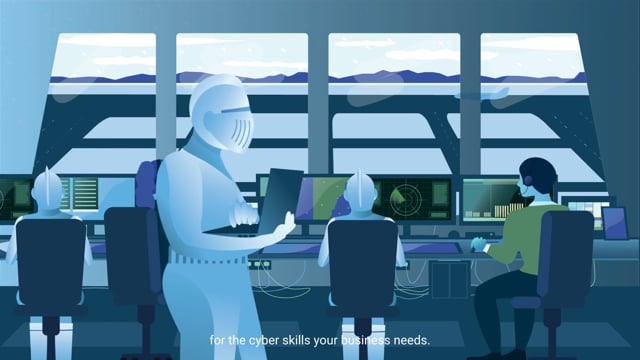 Slide
Aligned to the NIST-NICE Framework
Education and Training for Skills Development
Align curriculum to the NICE Framework, promote certifications, and prepare the future cybersecurity workforce.
Where Talented Individuals and Businesses Unite
CyberKnights is a talent assessment, development, and retention portal providing goal-oriented tools and resources for cybersecurity workforce development. Our portal is aligned to the NICE Framework Tasks, Knowledge, and Skills, with a wide range of features that individuals, educators, and employers can leverage for upskilling and reskilling cyber talent.
Individuals
Manage skills and career goals.

Soft and Hard Skills Assessments

Take an Aptitude Assessment, or Cyber Range Hard Skills Assessments. Watch your skills portfolio populate from results.
Career Journey Mapping Integration

Map your career, beginning-to-end, and discover what educational, or training paths you can take to reach your career end-goal.
Certification Guidance and Providers

Display your achievements in your profile for employers to see. Find out which certifications you still need based on your current knowledge and skills.
Student Message Center

Connect with your institution admin, or instructor. Upload attachments to your messages and receive notifications from your dashboard.
Employers
Develop and retain new talent.

Skills Gap Assessments

Compare current employees' knowledge and skills (K&Ss), against the total K&Ss described in the NICE Framework. Upskill and reskill to close gaps.
Skills Matching to Find Talent

Create and edit Skills Postings (aka job opportunities) aligned to the NICE Framework. Browse candidate profiles in the talent pool.
K&S Mapping to Certifications

View K&Ss that candidates, or employees, are awarded upon passing a specific certification exam. Contact training provider partners.
Participant Information

Browse all employee K&Ss, save candidates to a short list, and view numerous demographics within your company.
Explore Curriculum and Certification Pathways

Academic institutions and training providers are aligning their curriculum and courses to the NICE Framework.
Connect with your preferred training, or educational program, and track knowledge and skills gained through
passed courses and certifications.
Stats for Individuals
US Cybersecurity Job Openings
(CyberSeek)
Security Controls Assessor Average Salary
(ZipRecruiter)
Employed Cybersecurity Workforce
(CyberSeek)
What is the NIST-NICE Framework?